Elastic Wraps: Wrist / Knee / Elbow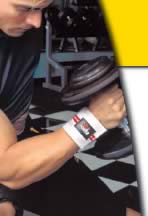 Elastic support wraps are made with special emphasis on using quality materials. Heavy duty stitching and genuine Velcro® hook and loop fasteners are design features that provide superior product value, while also addressing the needs of our customers.
Raw Power pays attention to details in designing strong and durable support products & lifting aids used in competitive sports and athletic training, crossfit, bodybuilding, strength training & powerlifting.
It is this attention to detail that has earned our company a reputation for supplying premium made products that stand up to the test, and consistently meet and exceed customer expectations.
Premium Quality Stretch Elastic used in all Wraps
Velcro® Secure Hook and Loop Closures

Elbow Wraps available in Training Models

Wrist Wraps available in Training and Competition Models
Knee Wraps available in Power Models
Wrist and Elbow Wraps are not available for sale at this time
ORDER ELASTIC WRAPS: WRIST / KNEE / ELBOW HERE:

PRICES SHOWN IN $USD